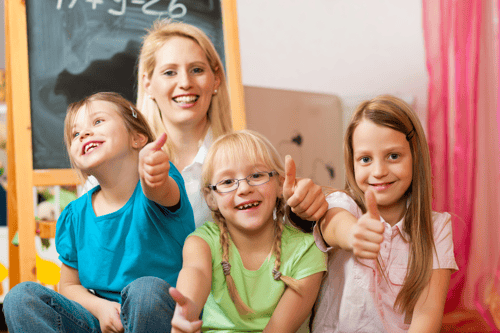 Paraprofessionals, or educational assistants, play an increasingly important role in today's classrooms by assisting teachers and enabling them to make real progress with students.
When a paraprofessional is assigned to an instructor, it's done to provide added support for all students. A paraprofessional becomes an important asset in the classroom by providing extra instruction and attention.
As the complexity of classrooms changes, the paraprofessional's role also changes, and may include an increasing role in the student-centered team. The information below provides an overview of the roles paraprofessionals play in today's classroom, as well as best practices for those thinking of taking on this profession.
What is a Paraprofessional?
By definition, a paraprofessional is an educational worker who is not licensed to teach but performs many duties individually with students and organizationally in the classroom.
There are currently more than 250,000 paraprofessionals working in schools across the country. They typically assist 10-25 students per year by supporting students with disabilities, English as a Second Language, and at-risk students.
Paraprofessionals help teachers save valuable class time by working with these students and helping them keep pace with their peers. Typically, paraprofessionals require two years of higher education, an associate degree, or some form of certified training.
Paraprofessionals should be comfortable communicating with children and enjoy working with them – while maintaining a positive and encouraging attitude. A paraprofessional is part of the educational team and must work closely with the classroom instructor and others in the school.
They must also be able to work with parents, learning more about the child's abilities and interests and the best ways to assist them. The U.S. Department of Education site has information on the qualifications for paraprofessionals according to Section 1119 of Title I, as amended by the No Child Left Behind Act.
What Does a Classroom Paraprofessional Do?
In general, paraprofessionals assist with tasks such as:
Leading small group instruction designed by the teacher

Being assigned to

individually work with a student as part of an

Individualized Education Plan (IEP)

Gathering materials and assisting with personal care

Assisting students to complete directions given by the classroom teacher

Facilitating interactions between students

Adapting lessons under the teacher's guidance
Paraprofessionals may also provide instructional support in the computer lab, library, or media center, conduct parental involvement activities, or act as a translator.
What Does a Classroom Paraprofessional NOT Do?
Paraprofessionals are an essential asset to the educational team, but there are some constraints on the responsibilities they can and cannot have. By law, a paraprofessional or education assistant cannot:
Write programs without supervision of certified personnel

Create new, alternative instruction without direction from the teacher or other certified personnel

Implement "behavior" ideas without direction from the teacher or other certified personnel

Take complete responsibility for any students
A Closing Thought
Paraprofessionals play important roles in schools and help make classrooms more inclusive. Working as a paraprofessional can be an extremely rewarding career – and in many areas, individuals are in short supply.
If you have a high school diploma (preferably a minimum of two years of college or an associate degree) and love helping and working with children, becoming a classroom paraprofessional could be right for you.
At GHR Education, we're true school staffing experts. Whether you're a school-based professional looking for a great educational opportunity, or a school district looking for dedicated professionals to deliver a nurturing, educational environment, our education recruitment company is here for you. To learn more, visit our GHR Education website
today.