The start of a new school year can be a stressful time for students, teachers and parents. Between adjusting to new schedules, preparing supplies and lessons plans, the beginning of a new school year brings on a range of emotions from excitement to anxiety and everything in between. During the transition of getting back into the routine of the school year, mental health should be a top priority for students and teachers alike.
According to the National Alliance on Mental Illness, one in five young people between the ages of 13 and 18 will face a mental health disorder in a given year. Also, half of all lifetime mental health cases start by the age of 14. While as educators (or even parents), we can't completely shield children and adolescents from all potentially stressful or traumatic situations, we can equip them with appropriate coping skills to lead them to better mental and physical health. Teachers hold a valuable position in a young person's life through the ability to notice and ultimately intervene when a student may be struggling.
Mental Health Warning Signs to Look for in Students
Children and adolescents can experience a variety of mental health conditions. Therefore, knowing how to identify them and provide individualized support and assistance to meet the student's needs is key. Schools can become highly-competitive and stressful environments for young people, which in turn can breed into mental health problems with unique risk factors. As educators, it's important to know what signs to look for in your students.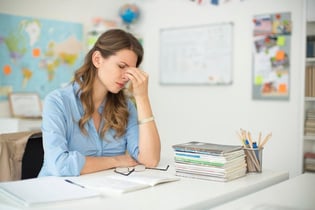 Warning signs and symptoms include:
Withdrawing from friends
Changes in school performance
Changes in sleeping/eating habits
Hyperactivity or acting out uncharacteristically
Appearing flushed or tense
Challenging authority, not complying with rules
For students that are struggling or unwilling to articulate their emotions or problems, it's important that teachers make the appropriate school personnel aware of these behaviors as they may be early indicators of significant mental health conditions that require intervention.
For more information on the signs of mental health conditions, visit the NAMI website.
Classroom Strategies for Working with Students in Need of Mental Health Support:
Know How to Talk to Student's Parents
While mental health issues are now talked openly about, the stigma is pervasive. Discussing your concerns for a student's mental health with their parent or guardian can be a challenging conversation to have, though necessary. Be conscious of how you're delivering the message, aiming to come from a genuine yet concerned place is a good way to start.
Know Your Resources
In order to help any at-risk or potentially at-risk students, It's important that you are aware of your school's resources, For example, school counselors, school psychologists, social workers, school nurses, emotional and behavioral disorders (EBD) teachers.
Create a Supportive Learning Environment
Children with behavior or emotional vulnerability tend to perform better when in a stable, consistent routine. It's important to work on a personal life with the student in case any modifications need to be established to classroom routines that best fits their learning process.
Stay Calm and in Control
It is crucial for teachers to remain outwardly calm and composed in all situations. While power struggles or disturbances may occur, certain techniques may be helpful such as deep breathing, speaking in a calm tone, wording requests in a positive manner, and modeling calm behavior for the student.
Mental Health Tips for Teachers
Establish a Work-Home Balance
Being a teacher is a demanding job that can quickly take a lot out of you. Unlike other professions, teaching is not just a 9-5 position. Teachers are consistently planning and thinking ahead, even when they go home after the school day. For your personal, mental and physical health, it's critical to find a way to keep a balance and divide between your work and home life. Try to dedicate one night a week to planning. Doing so will help with your overall happiness and well-being.
Take Time for Yourself
In the words of Eleanor Brown, "You can't serve from an empty vessel." Teachers spend so much of their time supporting others, which can leave them feeling worn out, frustrated and losing focus. To avoid a burnout, make time for self-care and do things for yourself, even if that's just exercising, yoga or simply venting to a listening ear.
Self-Reflection
Taking time to do to some self-reflection can help you gain insight into what truly makes you happy and what doesn't fuel your fire. Reflecting on the previous school year to assess your strategy and work-home life balance can help you determine what works best for your mental health and overall well-being.
Set Small Achievable Goals for Yourself
While we all have big ideas, plans and goals, setting up small, achievable goals that you know you will be able to meet will help you tackle those long-term goals. Meeting small goals can contribute to creating feelings of efficiency and make your larger feats seem tangible.